RLM PR is a full-service public relations firm with a no-nonsense, straightforward approach.
Headquartered in NYC, with offices in LA and DC, RLM PR has you covered from coast to coast. We are leaders. PR visionaries. Media savants. And extremely good at what we do.
Richard Laermer, CEO & President
An oft-quoted authority on media relations, thought leadership and culture, Laermer is a PR know-it-all, former journalist, and author of five bestselling books including Trendspotting, Punk Marketing and Full Frontal PR. Laermer's work as a reporter dates to 1979; his columns, reporting and reviews have been published in The New York Times, New York Daily News, Reuters, USA Today, Crain's, New York Observer, People, Us Weekly, Chief Executive, Washington Post, Rolling Stone, Editor & Publisher, and others.
He founded RLM PR in 1991 after a stint as PR Director at Columbia Business School; there he recognized companies' increasing need for effective media representation and saw clearly that publicity people were not grasping the intricacies of their clients' businesses. Laermer understood how to deliver results for his clients while respecting the demands placed on overburdened reporters, and created a new PR methodology to do just this.
Underpinned by Laermer's breakthrough methodology, RLM PR has consistently achieved blockbuster results for its clients over 26 years. With standout specialization in technology categories, emerging industries, launches, and biz dev incubation, RLM PR is the marcom solutions firm of record for the companies now remaking our world. By capitalizing on current and emerging trends, and teaching leaders how to own categories—categorically—Laermer has trained hundreds of CEOs, celebrities and spokespeople (even a chimp for E*Trade) to deliver messages skillfully and with no punches pulled. Laermer is a frequent guest on CNN, FOX News, CNBC, Public Radio's Marketplace, FOX's Good Day New York and CNNMoney.com. He was the cohost of TLC's "Taking Care of Business" reality makeover show.
Greg Russo, Account Supervisor
From managing unique programming efforts such as water-activated murals to raise awareness for Seattle's homeless crisis, to coordinating the logistics of a voter-supported contest and developing a $100,000 playground for a school in need, Russo prides himself in discovering the unique in a news story that cuts through the clutter of the always-on media landscape.
After spending several years toiling in TV production and tech startups, he transitioned seamlessly into PR, where he has spearheaded many award-winning campaigns across a diverse set of industries to include corporate comms, luxury, tech, disaster relief, and cannabis, to name a few. Russo will tell you he is most proud of is a children's coloring book about constipation—a feat he is certain no one else has accomplished.
At RLM, Russo manages teams and accounts across a wide variety of industries ranging from AI/chatbots and media content platforms, to cannabis and wellness brands. Creative ideation and finding the most unique way to keep a brand story top of mind are paramount to Russo when helping a client portray core goals, value prop, and mission.
Analisa Moskus, Events Manager
analisa@rlmpr.com, analisa_321
After years of working in almost every single facet of the event and hospitality industries, Analisa Moskus has developed the perfect blend of creative, strategy and organization. She enjoys nothing more than collaborating with strategic partners and clients alike to design experiences that set the bar higher with each event executed. Analisa worked as integral parts of teams at sbe, The Fairmont, 41 Ocean, Stephanie Grace, and Best Events in addition to starting her first company, Cocktail Academy at the age of 24.
Projects have ranged from managing a three-venue pop up at Sundance Film Festival featuring Nobu to curating exclusive, immersive pop ups for brands and artists alike. She brings to RLM her passion for experiences that create community and celebrate culture.
Full Frontal PR: Getting People Talking about You, Your Business, or Your Product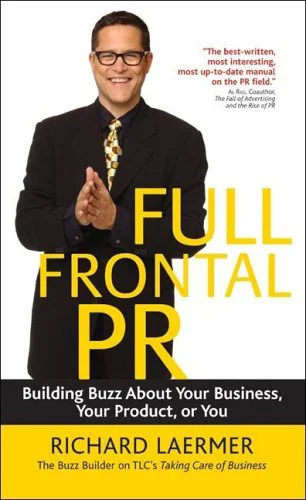 Whether looking to promote a person, a business, a product, or even an idea, with "Full Frontal PR," anyone can design and implement a simple plan and earn essential media coverage — without a large budget.
On TLC's TV series Taking Care of Business, Richard Laermer shows small businesses how to build buzz and get media coverage. Here he shares the secrets from his highly-successful public relations firm on how to take care of your business and grow the bottom line. In Full Frontal PR, you'll learn how to hone your pitch, build relationships with the press, and gain strategic placements that will get people talking.
Punk Marketing: Get Off Your Ass and Join the Revolution
The marketing revolution is here. Punk Marketing is the long-awaited and breathless uprising that businesses want, deserve, and desperately need.
In this radical guide, Richard Laermer and Mark Simmons take an irreverent, penetrating look at the seismic change in the relationship between the people who sell stuff—products, services, entertainment—and those who purchase it. They demonstrate that to survive in business, a revolutionary approach is needed—one they have branded "Punk Marketing"—and it's one we all need to understand, for the traditional divisions among commerce, content, and consumers are continuing to blur ever more rapidly.
2011: Trendspotting for the Next Decade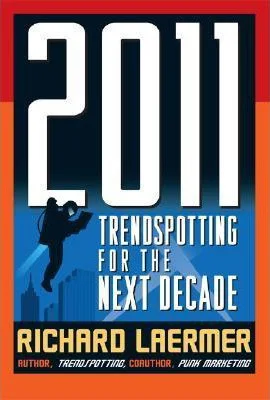 A better time for your business starts in the next decade. Are you ready?
In this fast and furious time machine of a book, Richard Laermer shows you how to use-and in some cases abuse-the trends of the next decade (or two) that really matter. As an author with a functional crystal ball, a veteran marketing innovator, and media master, Laermer foresees a fabulous future-if you start planning for it today.
<! ========= Cool Timeline Free 2.7.1 =========>
Cool Timeline
Firm Founded March 1, 1991
RLM PR founder & CEO Laermer leaves position as PR Director at Columbia Business School
First Technically Tech Client Lumatec (makers of flat flashlight)
Instrumental in shaping the direction of our firm for years, this was the beginning of what has become a 26-year success story of launching the most nascent tech companies out there
First "Bulletin Board System" (BBS) Client (Pre-Internet)
Since nobody else takes this technology seriously, RLM PR gets calls from everyone. The beginning of yet another watershed moment for our company
Reporters Luncheon: "Different Revenue Streams of the Internet"
We host 25 major tech and advertising/marketing reporters in a discussion about how the Net works
Launch of SonicNet
Biggest party of the year—middle of summer—best time for rock and roll to get its due
The New York Times Feature on Laermer Book
First major push for New York City guidebook
Launch of HBO.com
RLM PR begins a history of launching major sites for major corporations. This was the first TV-to-Internet play
Launch of Nerve.com Magazine
Nerve was featured in every newspaper and magazine and TV show because it was the first "literate smut" on the Internet
Launch of SesameStreet.com
The first actual network for SesameWorkshop: one of the biggest launches of the decade
RLM PR Featured in The New York Times
Hilarious feature on corporate culture
Client Pampers.com Makes Front Page of NYT
Pampers was the first dot-com to use ".com" in a nationally-aired commercial spot
Launched Poster Child of the Internet Age Kozmo.com
Kozmo paved the way for sites like InstaCart and Postmates. It also raised the most money pre-Internet bust
CEO Laermer Featured in NYT Article Immediately Following 9/11
Laermer leveraged for "Native's Guide to New York" perspective on the Trade Center
RLM PR Opens Los Angeles Offices
The New York Sun writes about a New York guidebook writer (Laermer) decamping his corporate headquarters to Los Angeles
RLM PR's Bar Mitzvah Celebration
BarnesandNoble.com Relaunch
RLM PR was behind the astronomical success of the reintroduction of BN.com
CEO Laermer Named to PR Hall of Fame
A proud moment for our company…a major step for mankind
Laermer Globe-Trots and Leads "Punk Marketing" Symposiums All Over the World
From Alaska to Zanzibar, our CEO talks a blue streak around anyone who isn't listening
CEO Laermer's "Punk Marketing" is featured in AdWeek's "Books You Should Have Read 2007"
Alongside other classics "Made To Stick" and "Chasing Cool." Same week, Laermer's passionate article about loving [airline] layovers is published in the NYT
RLM PR Produces Massive Stunt for Fujifilm: Wedding on the Blimp
We are famous for many things, including our stunts. A hallmark for RLM PR – this got tons of attention from the media (and a ton of wedding enthusiasts)
Launch of Revolution Money
Steve Case and Jason Hogg bring old-world credit cards into the digital age to great success, resulting in a sale to Amex for $350 million
Launch of Offices in DC and Orlando
Having already had a lock on the Apple and TinselTown, RLM PR was excited to expand deeper down the eastern seaboard
HuffingtonPost Article by CEO Laermer Goes Viral: "Have Balls; Mortgage Will Follow"
In the midst of the Great Recession, Laermer offers thought leadership about taking risks and worrying less. Practical, but it brought levity to dark times
Launch of GetTaxi—the First On Demand Car Service
GetTaxi.com's success was copied by Uber and Lyft—we started it all!
RLM PR Launches Cryptocurrency/Blockchain Division with Largest ICO in Terms of Tokens Issued, Crypterium
After achieving huge success with crypterium in their pre- and post-ICO phases, RLM PR made a dedicated investment in the Crypto space and have now become the standard bearers for total marketing communications solutions within the ecosystem